I'm spending time on…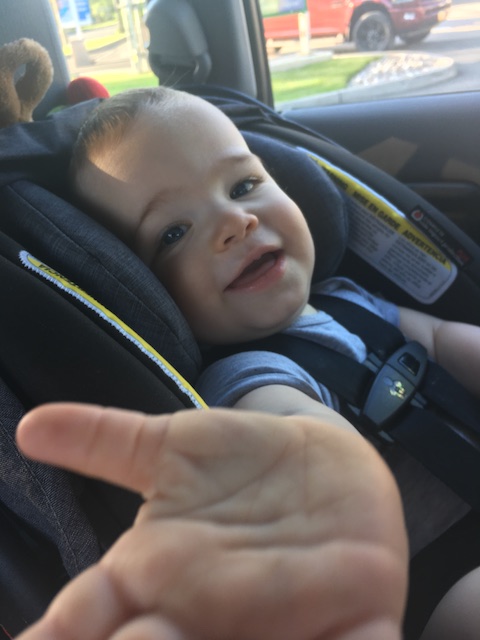 Squeezing my wife and nearly 1-year-old child. Lifting weights. Learning to swim. (Yesterday I put my face in and out and breathed while traversing the deep end. All new.) Experimenting with diet. Programming for fun and profit. Shepherding guest episodes of Agile in 3 Minutes. Appreciating publicly some people who've helped me grow. Organizing my Q3 coding tour. Lining up Q4 consulting clients.
I'm looking forward to…
Going for a walk every day. Seeing myself establish additional healthful routines. Playing more piano. Becoming better acquainted with agilists in Europe and a handful of cities where they live and work. Learning new domains and techniques. Strengthening one of my strengths: orienting myself and others in new problem spaces. Reflecting with each of my tour hosts on what we found valuable about my visit. Sharing our findings with you.
I'm wishing for…
A safe journey. Good health and good scratches for Haskell and Paul. More balance, which to the best of my understanding means living a smaller-batch-size life.
I'm traveling to…
Germany, Spain, and the UK. Some details are on my speaker page, and more will be filled in shortly. Back in the States in mid-September, just in time for the 10th anniversary Agile Coach Camp in Ann Arbor.
---
What's this?
It's a /now page.
nownownow.com is a directory of people with /now pages. I'm listed there.
I had a great time at last year's Big Apple Scrum Day presenting with Ryan Ripley in my home market, so it was an honor to be invited back to contribute to the 2018 BASD proceedings in a new way: as part of the Coaches Clinic, where attendees could talk through a situation they're facing and, in so doing, perhaps gain some new understanding or insight.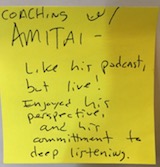 These conversations, while brief, can have profound impact. Five years ago, my first visit to a Coaches Clinic transmuted my curiosity about a career option into the resolve to try it. And here we are.
Yesterday, I don't think I came close to doing for anyone what Roger did for me. But I did make myself useful, reasoning about the needs of the people in Matt's situation until we found an actionable idea. Gene Gendel, who organized the Clinic, is collecting experience reports from the coaches.
Despite the prevalence of Lego in Agile coaching games and simulations, I still hadn't played with it much since childhood. I guess I decided to start practicing because Taavi will be Lego-ready before we know it. I tried to stay off the grid.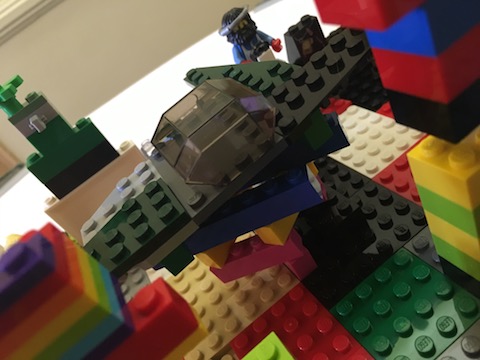 It was energizing to punctuate the pace of the one-day conference by visiting with friends — especially Joanne Perold and Barry Tandy, who I'd met online via Agile for Humans, and now in person, all the way from South Africa. I also got a kick out of rubberducking my code problem with Doc Norton, though we ran out of time to pair on it. (Jo and Doc both keynoted.)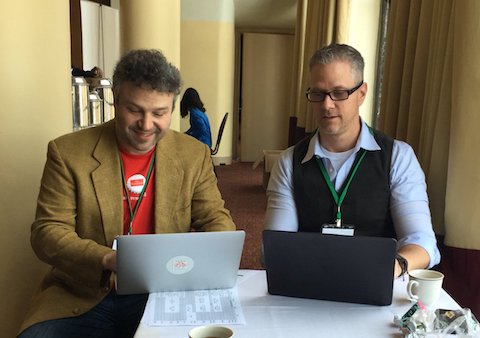 I missed the Lean Coffee facilitated by Jonathan Hansen, though I attend the weekly one he hosts in Chelsea as often as I can. Jonathan also organizes the monthly NYC Lean/Kanban meetup, where I'll be presenting in October.
Big Apple Scrum Day is once a year, but the NYC Scrum meetups are every month. I look forward to participating more when we return from Germany.
Speaking of which: there are only a few slots left in my summer coding tour schedule. If you've been meaning to get in touch, now's the time!
Who's Amitai?
I'm an independent software development consultant, coach, and trainer. In nearly 20 years comprising global finance, startups, agriculture, universities, and nonprofits, I've managed products, projects, and people; engineered code, tests, and releases; deployed and operated production systems; provided phone and desk support; and listened to, empathized with, and improved the lot of folks in all of these roles. (More about me…)
What's this "coding tour"?
It's when a programmer briefly visits several companies to join them in their coding work and to learn from each other. (More…)
I'm on tour June through mid-September, anywhere in Germany — and anywhere else in Europe, schedule and travel costs permitting.
You provide room and board. I mob and/or pair with you for a week. We do it because we both expect to gain. That's the whole deal!
What's it like to code with Amitai?
From personal experience: you won't find a more supportive, encouraging human with whom to explore and problem-solve. This is an opportunity you won't want to miss! —Faye Thompson
Enormous value to me. Helps my thinking, helps my energy, helps my code. —Michael "GeePaw" Hill
Great. Very insightful comments. —Alistair Cockburn
Love his open, interesting approach to problem-solving during coding. I can't even describe it. It's just inspiring. —Jim Holmes
His focus on the "real" goals and value, and his ego-less way of working through a problem, made all of it possible. —Nathan Arthur
How can I form my own impression?
Got 15 minutes or an hour to listen? Prefer reading? Need to see for yourself?
How good is Amitai's German?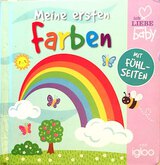 I understand some. I pronounce better than I understand, understand better than I speak, and speak better than my son — for now! — to whom I've been reading books like this.
Let's prefer English, while also not worrying too much about avoiding German.
How do we invite Amitai?
---
After two years of ruing my inability to attend the Mob Programming Conference, last week I finally made it. It was simultaneously everything I hoped for and exactly what I expected: the hybrid vigor of a conference crossed with an unconference, and the generalizable learning that only comes from concrete experiences.
Mob programming is one of my favorite techniques. (For more about it, listen to Agile in 3 Minutes #32.) I learned it with Pat Maddox and Woody Zuill in 2014, have used it frequently in my consulting ever since, and treasure my occasional opportunities to simply be in a mob. The Mob Programming Conference's 1.5-hour sessions were designed to maximize those opportunities. Woody likes to say mob programming is "All the brilliant minds working on the same thing at the same time on the same computer"; at every session of Mob Programming 2018, I saw brilliant people every time I looked around the room.
Turns out Lennart — my "brother from another mother", as he put it — was able to give me some older-brother advice on my upcoming coding tour, because he went on tour in 2015. Now I have a better plan. Look for an announcement next week.
A week on, both of Lennart Fridén's sessions have stayed with me. One was about solving problems in a fictional assembly language, where nobody's an expert and we all have to learn together. I came in late, so I had even less information than everyone else, but within a few rotations and a few questions was able to make myself useful, and by the end had roughly the same working understanding as everyone else. If you've mobbed before, you've likely seen and felt this convergence of shared understanding. Lennart's session was designed to highlight it.
His other session invited a few volunteers to role-play unconstructive mobster behaviors, then opened to group discussion about how we might overcome them. As one of the improv actors, I found it disturbingly easy to behave badly in a succession of audience-specified ways. I may have had slightly too much fun doing it, but I think my acting supported the session's intended learnings, and if not, Lennart's facilitation skills made it so. I guess if the tech coaching well ever runs dry, I can always take my talents to Silicon Valley: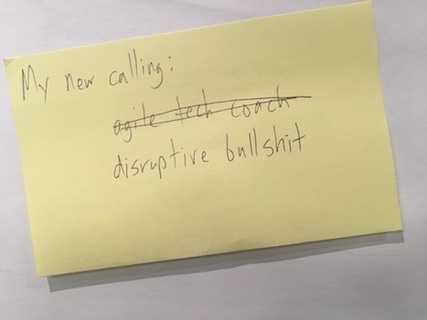 In addition to seeing lots of old friends, I got to meet face-to-face with some folks I'd thus far only gotten to appreciate via Twitter. One of them, Lisi Hocke, wrote about her experience moberating two sessions, along with vivid details of her participation; read it and you'll almost have the feeling of being there. With a little luck I'll return to the Mob Programming Conference next year, perhaps as a moberator.
A conference that took me five years to return to was Software Craft[smanship] North America. The 2013 SCNA in Chicago brought me into a community of shared values I didn't even know I was missing, and nudged me to make a significant career change. I can't imagine how any subsequent SCNA could be as personally momentous, but at yesterday's event in midtown Manhattan I enjoyed getting to know some 8th Lighters over lunch, to run into one of my Problem Solving Leadership cohort (and meet his whole company!), to ask Joel Spolsky a pointed question about Stack Overflow culture, and to feel for a multitude of reasons that my professional and personal homes — coaching and New York — are finally neighbors.
Sure is good to be here.
Thanks to the power of the internet you can buy me a fancy coffee, but I'd much rather treat you, dear reader, to the beverage of your choice — in person. Here are some upcoming chances for us to do that:
(I'm considering Codeland, also in NYC. Let me know if you're going.)
Another way is for us to work together. I'm available for consulting, coaching, or training, mostly in the New York metro area.
In Europe? You're in luck! This summer I'll be doing a coding tour, speaking at a few conferences, and consulting (mostly in Germany). More details forthcoming.