On Thursday, May 16, NYC Large Scale Scrum hosted a meetup with LeSS co-creator Craig Larman. The event was held at Morgan Stanley — where I learned Extreme Programming and got my first taste of software development coaching — so it was a pleasure to be back in a speaking capacity. I served as Craig's opening act, keeping folks warmed up and tuned in with a mix of presentation and discussion until he arrived.
The discussion portion was stoked by Agile in 3 Minutes, specifically Effect and Wrong. One of my favorite things to hear about the podcast is when it helps conversations get going, so one of my favorite things about sharing the material in person is watching that happen. I can still hear the roar of 450 people talking first thing in the morning as I opened AgileIndy 2016.
Photo by Gene Gendel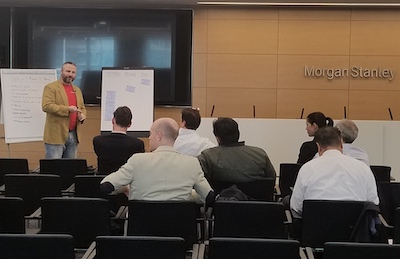 The presentation portion was me telling stories of growing my Morgan Stanley team's circles of trust, collaboration, feedback, and impact by improving our technical capabilities in our code. By a show of hands in the room, about half the audience had worked for Morgan Stanley or still does, and least half of those were familiar with the system I had been responsible for. I didn't know how much time I'd have, so I ordered the stories chronologically and worked my way through two of them — just enough to establish Test-Driven Development as a keystone of our team's development, and tee up technical excellence as a keystone of the LeSS framework. (To find out how our development continued, read the stories.)
When I handed off the show to Craig, he took a seat up front between the two flipcharts, fielded questions, and held the room for an hour and a half with his expertise and manner. It was my first time hearing him speak, and memorable from the outset. He said things that are often hard to hear in a way that I'm guessing may have been relatively easy for this audience to hear. It was occasion to reflect on how my consulting skills have grown since my time at Morgan Stanley and how I might grow them further. And then it was occasion to go out for tacos with John, with whom I'd spent many a Friday night delivering new code to production. Looking forward to seeing more of my former colleagues soon.
---
Missed it?
Invite me to present internally for your organization in the NY metro area. Or take a look at my upcoming speaking engagements and some conferences and meetups I'm considering.
Loved it?
Let's take a half hour (or less) and explore how my rare and highly effective combination of technical coaching and impactful conversations could be useful to your organization.
On Friday, May 10, I attended Big Apple Scrum Day, was part of its Coaches Clinic, and co-facilitated a session called Two Midwesterners Politely Invite You To Explore Coding with Faye Thompson.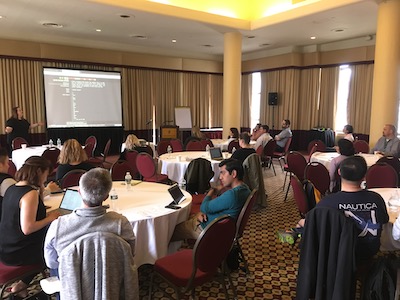 Here's the abstract:
Wonder what it's like to do what programmers do? Maybe people have tried to explain it, but didn't put it in terms that computed for you. Perhaps you've considered participating in your team's mobbing sessions but weren't confident that you could contribute. Or maybe you would like to become more technical, but the mere thought of trying to code has felt intimidating. Today is a new day!

Faye's a non-programmer from Ohio, Amitai's a sometimes-programmer from Illinois, and with your help, we'll solve a problem by thinking and coding together. If you want to, you can take a brief turn at the keyboard; if not, no biggie. When we're done, we think you'll have a new kind of feeling about code and coding. You might even want to pursue it further.
We got the audience we were hoping for: mostly folks who haven't touched code much before, if at all. Feedback suggests it might make a difference for at least a few of them. For my part, co-presenting with Faye was easy and enjoyable, and her involvement made the session much more effective.
Gitte Klitgaard's keynote set a powerful tone for my third consecutive Big Apple Scrum Day. It's always a privilege to present — and to provide free 1-on-1 sessions as part of Gene Gendel's Coaching Clinic. As an independent consultant, I especially appreciate the chance to offer something of value to an audience that's local to me.
I attended deliver:Agile in Nashville and co-facilitated a session called Strangle Your Legacy Code with Markus Silpala. As a group, we practiced adding features to an old SMTP server without modifying its code. Then we reflected on the potential applications, benefits, and risks of the Strangler application pattern.
Photo by Avdi Grimm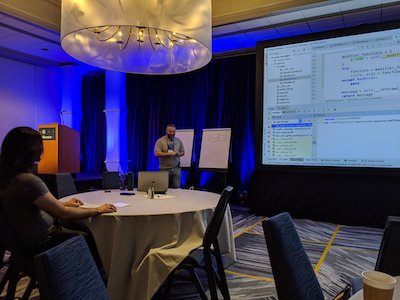 Abstract:
Given an ancient codebase that makes refactoring risky and expensive, how do you clear a path to continued delivery? The old wisdom says the best time to plant a tree was 20 years ago, and the next best time is today. But if you already have a gnarled old source tree, preserve your software investment by planting a Strangler: a pattern for reaping continuous value from your existing system while growing new functionality alongside it.

We'll take a quick look at a Strangler, demonstrate the basics of Mob Programming, then split into small groups to test-drive new features into the system. You'll leave with a powerful strategy for extending the useful life of working, valuable software — especially when it's hard to change — and with a free bonus development practice to accelerate your team's learning. For a limited time only!
You can find our code, our learnings, and links to more resources in the…
Wondering what this interactive, participatory session was like? Take a look at Derek Graham's writeup from last summer.
Wondering what might make it better? Markus got some excellent feedback (I had to head straight for the airport) and synthesized some ideas.
Reflections
After missing last year's event, I was happy to be back at the Agile Alliance's tech-focused conference. (I'd been part of the first two "AATC"s, and enjoyed them greatly.) Markus and I have been remote-pairing daily since November, so it was a treat (and doubtless beneficial for our client) to get to room with him and co-facilitate something again.
Lots of other highlights, too. This conference is always a who's who of folks I've been lucky to learn from and get to know, and a chance to deepen both. For instance, until Tuesday at deliver:Agile, I don't think I'd managed to catch a quiet Ron-and-Chet chat since I stopped consulting in southeast Michigan. The best of many moments, though, might have been while catching up with James Grenning. He'd just been encouraging me to continue along my current path when someone came up to us — bound for James, I assumed — to shake my hand and thank me for my blog posts, podcasts, and generally being me. That would have made my night under most any circumstances, and I told him it did. All the more so, given how and when.
Chief lowlights: several people I didn't get near enough time with.
Guess I'll have to come back next year.

---
Missed it?
Invite me to present internally for your organization in the NY metro area. Or take a look at my upcoming speaking engagements and some conferences and meetups I'm considering.
Loved it?
Let's take a half hour (or less) and explore how my rare and highly effective combination of technical coaching and impactful conversations could be useful to your organization.
On Thursday, April 11, I presented a webinar with SmartBear called Mob Programming Explained. The abstract:
Software development is complex. It's knowledge work. How often does one developer know everything needed to solve a customer problem with code? And on that rare occasion, how beneficial is it to the business for nobody else to have been involved?

Enter Mob Programming: the whole team, together, solving one problem at a time. Come learn how it works, how it relates deeply to Agile and Lean values, and how it can address a surprising array of organizational and technical challenges. Not a programmer? Mobbing on complex problems is for you, too — and so is this presentation.
The video:
Habits can change
I have a habit I like very much: incorporating some professional training every year. Last year my needs led me to go on a coding tour.
I also have habits I don't like very much, particularly about how I allocate my time. So when I heard Personal Kanban training was coming to New York, I needed to allocate only a small amount of time to deliberate. Sue Johnston helped, too.
20 minutes in, I could tell my learning would be in good hands with Tonianne DeMaria and Jim Benson. The ideas I was hearing were ones I knew and cared for, and they were being used in the service of people being whole people.
Emotions contain information
One such idea: a leading indicator for software quality problems is the emotional state of the developers. (For me, this connects directly to Michael D. "GeePaw" Hill's formulation of made-making-maker.) If we're uncomfortable with what we just delivered, that's a signal. If we ignore our emotions and the information they contain, we're likely to experience them again, more painfully. Or — check this out, fellow humans! — we could help each other observe and value our emotional signals.
Another such idea: in Lean manufacturing, where work is standard, variation is desirable to reduce. In Lean software development, where work is knowledge, variation is desirable to understand. Can we learn to expect where it comes from? If so, our planning will improve. (Can we differentiate "accidental" and "essential" variation? If so, we can drive down the former and our planning will further improve.)
Lean in code and class
What does the application of Lean principles to software development look like? Perhaps the best known example thus far is Mob Programming: when the whole team works on the same problem on the same computer, we get single-piece flow, a WIP limit of 1, just enough decisions made just in time, shared context, and easy predictability. I had enough to say about mobbing, it seems, to be called "the Mob Programming guy" in our class. In response to Pomodoro Technique, I also offered what I might call "Inverse Pomodoro": when you are being pulled away, write down your next thought before you lose it. Then it's waiting for you when you come back. When my work is programming, I do it like this.
What does the application of Lean principles to teaching look like? A couple Big Apple Scrum Days ago, Ryan Ripley and I did an entirely audience-driven talk where folks told us what they were wondering about and that's what we talked about. Jim and Tonianne did this for two whole days, relating each idea back to previous ones, often via previous visuals. As a result, I found myself relating familiar ideas in new ways. If I hadn't encountered most of them previously, I might well have been overwhelmed. It was plenty to take in as it was.
Insights
Hearing about Jim and Toni's working relationship, I realized: I'd pay someone to irregularly but periodically wipe my kanban board (and absorb my reaction). I tend to habituate quickly to my board and forget I have agency to rethink everything about how it works. When it's been cleared, I've been reminded. After several emptyings, I might even find myself less attached to my backlog. Might be nice.
Hearing about Personal Kanban in the service of whole people, with health explicitly non-negotiable, I was reminded of a hypothesis: a balanced life is a small-batch-size life. Mine hasn't been so balanced lately. Returning to visualizing my work — everything I need to do to have the life I want — will help. I'm eager to get to my office, lay out a dozen stickies with fresh design considerations, and build myself a fresh board.
---
Previous trainings