On arriving at Agile Coach Camp Germany in Rückersbach (about an hour outside Frankfurt) I could already feel a difference from my experiences of US Coach Camps. Instead of a city center, we were atop a hill overlooking a village. Instead of streaming in each morning from various hotels, we were staying on-site. Instead of a company's office or a meeting space, we were at a dedicated venue.
We were simply together — including meals, late-night gaming and other activities, and for many of us, double rooms. This gave the weekend a consistently higher level of intensity, which was easy to tune to my liking by going for a walk in the woods, throwing a disc with a fellow Ultimate enthusiast, or sitting down with some code. And it consistently afforded opportunities for serendipitous conversations until at least 3am. In short, the "Camp" part of the name suddenly makes way more sense to me.
I offered my now customary two sessions:
And also my customary anti-session:
Interrupt me anytime (except in the bathroom) for 15 minutes' chat about any Agile technical practice: try it with me, watch me do it, ask about a situation…
I continue to offer these because I believe that the most significant influence a coach can have comes through modeling behaviors, and the most important team behavior a coach can model is utter openness to joining others in their work. Coaches who disqualify themselves from joining in technical work are modeling behavior we'd all advise Agile teams against, while simultaneously constraining the potential depth of their connection to the people who do that work.
Coaching is hard enough without these extra challenges! I offer these sessions in the hope that more of us feel more comfortable opening more of ourselves to more of the folks we serve. I'm grateful to receive feedback suggesting it's effective. So I'll keep doing it every chance I get. The next Coach Camp for me will be Ann Arbor in September.
Speaking of creating joyful shared programming experiences, the first stop on my summer coding tour is in just two weeks. Can't wait to start sharing what I learn. Stay tuned!
At the Mallorca Software Craft meetup last night, 20 people played at Guy Royse's Vending Machine Kata.
What we did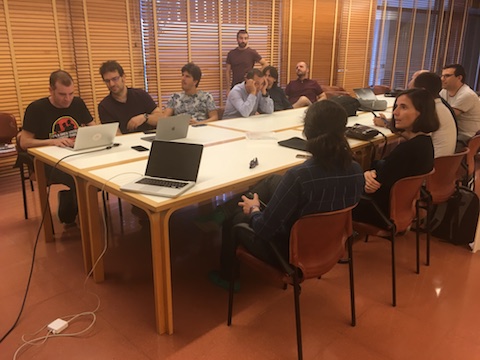 We organized as one big mob, used Python and PyCharm, and rotated every 4 minutes.
As a guest, I was asked to write something in this book: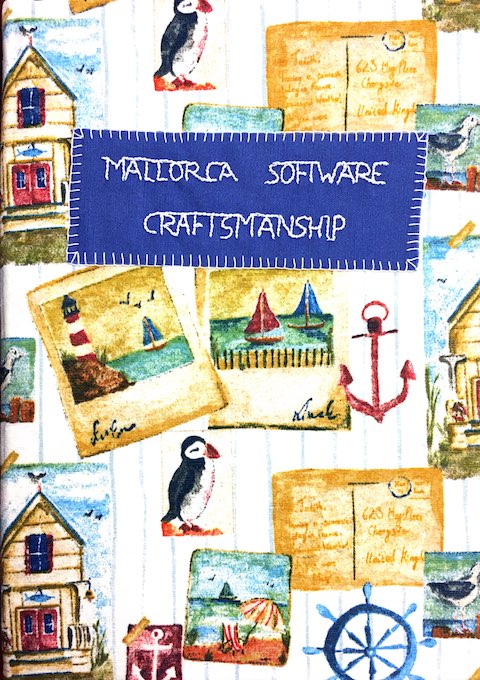 What I wrote:
Thank you for convening a summer session, inviting me, and tolerating my almost complete absence of Catalan or Castilian. We're about to start the meetup. It's wonderful to find a community of shared values here. I'm looking forward to the Vending Machine Kata with this group. If it doesn't get much bigger, maybe as one big mob!

Yes, that's what we did! It was the first experience with Mob Programming for everyone in the room. Mostly in Spanish. Still possible to facilitate decently.
And also this:
Don't think too hard. Talk your ideas out loud. Do something simple. Write another test. Work together.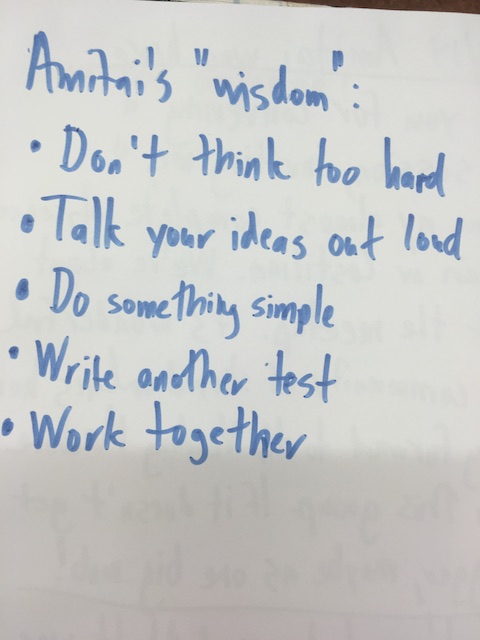 Here are all the tweets to #MallorcaSC from the time of the event.
Learn more
The slides have our retro findings, references, and more!
I'm spending time on…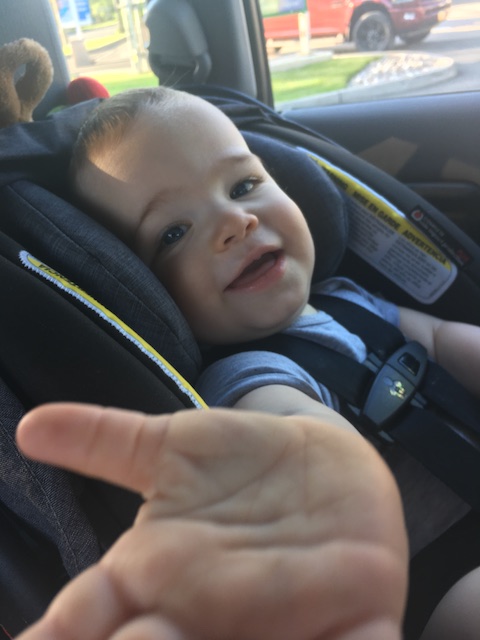 Squeezing my wife and nearly 1-year-old child. Lifting weights. Learning to swim. (Yesterday I put my face in and out and breathed while traversing the deep end. All new.) Experimenting with diet. Programming for fun and profit. Shepherding guest episodes of Agile in 3 Minutes. Appreciating publicly some people who've helped me grow. Organizing my Q3 coding tour. Lining up Q4 consulting clients.
I'm looking forward to…
Going for a walk every day. Seeing myself establish additional healthful routines. Playing more piano. Becoming better acquainted with agilists in Europe and a handful of cities where they live and work. Learning new domains and techniques. Strengthening one of my strengths: orienting myself and others in new problem spaces. Reflecting with each of my tour hosts on what we found valuable about my visit. Sharing our findings with you.
I'm wishing for…
A safe journey. Good health and good scratches for Haskell and Paul. More balance, which to the best of my understanding means living a smaller-batch-size life.
I'm traveling to…
Germany, Spain, and the UK. Some details are on my speaker page, and more will be filled in shortly. Back in the States in mid-September, just in time for the 10th anniversary Agile Coach Camp in Ann Arbor.
---
What's this?
It's a /now page.
nownownow.com is a directory of people with /now pages. I'm listed there.
I had a great time at last year's Big Apple Scrum Day presenting with Ryan Ripley in my home market, so it was an honor to be invited back to contribute to the 2018 BASD proceedings in a new way: as part of the Coaches Clinic, where attendees could talk through a situation they're facing and, in so doing, perhaps gain some new understanding or insight.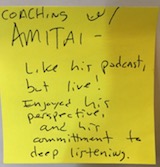 These conversations, while brief, can have profound impact. Five years ago, my first visit to a Coaches Clinic transmuted my curiosity about a career option into the resolve to try it. And here we are.
Yesterday, I don't think I came close to doing for anyone what Roger did for me. But I did make myself useful, reasoning about the needs of the people in Matt's situation until we found an actionable idea. Gene Gendel, who organized the Clinic, is collecting experience reports from the coaches.
Despite the prevalence of Lego in Agile coaching games and simulations, I still hadn't played with it much since childhood. I guess I decided to start practicing because Taavi will be Lego-ready before we know it. I tried to stay off the grid.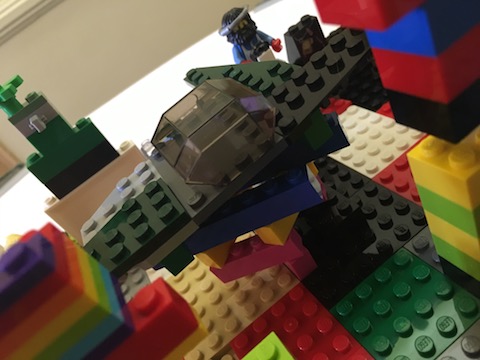 It was energizing to punctuate the pace of the one-day conference by visiting with friends — especially Joanne Perold and Barry Tandy, who I'd met online via Agile for Humans, and now in person, all the way from South Africa. I also got a kick out of rubberducking my code problem with Doc Norton, though we ran out of time to pair on it. (Jo and Doc both keynoted.)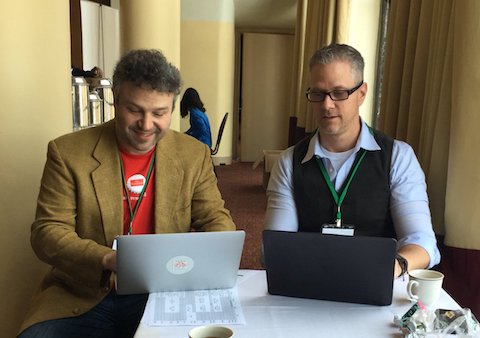 I missed the Lean Coffee facilitated by Jonathan Hansen, though I attend the weekly one he hosts in Chelsea as often as I can. Jonathan also organizes the monthly NYC Lean/Kanban meetup, where I'll be presenting in October.
Big Apple Scrum Day is once a year, but the NYC Scrum meetups are every month. I look forward to participating more when we return from Germany.
Speaking of which: there are only a few slots left in my summer coding tour schedule. If you've been meaning to get in touch, now's the time!
Planned stops
While in town, I'll do my best to attend a public meetup or two. See what's been planned at my speaker page.
Who's Amitai?
I'm an independent software development consultant, coach, and trainer. In nearly 20 years comprising global finance, startups, agriculture, universities, and nonprofits, I've managed products, projects, and people; engineered code, tests, and releases; deployed and operated production systems; provided phone and desk support; and listened to, empathized with, and improved the lot of folks in all of these roles. (More about me…)
What's this "coding tour"?
It's when a programmer briefly visits several companies to join them in their coding work and to learn from each other. (More…)
I'm on tour June through mid-September, anywhere in Germany — and anywhere else in Europe, schedule and travel costs permitting.
You provide room and board. I mob and/or pair with you for a week. We do it because we both expect to gain. That's the whole deal!
Unique opportunity to be in the presence of someone who will make you a better, smarter version of you. And he doesn't charge near enough. —Kent Beck
What's it like to code with Amitai?
From personal experience: you won't find a more supportive, encouraging human with whom to explore and problem-solve. This is an opportunity you won't want to miss! —Faye Thompson
Enormous value to me. Helps my thinking, helps my energy, helps my code. —Michael "GeePaw" Hill
Great. Very insightful comments. —Alistair Cockburn
Love his open, interesting approach to problem-solving during coding. I can't even describe it. It's just inspiring. —Jim Holmes
His focus on the "real" goals and value, and his ego-less way of working through a problem, made all of it possible. —Nathan Arthur
How can I form my own impression?
Got 15 minutes or an hour to listen? Prefer reading? Need to see for yourself?
How good is Amitai's German?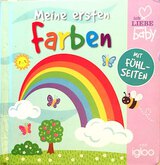 I understand some. I pronounce better than I understand, understand better than I speak, and speak better than my son — for now! — to whom I've been reading books like this.
Let's prefer English, while also not worrying too much about avoiding German.
How do we invite Amitai?
---