On Friday, May 10, I attended Big Apple Scrum Day, was part of its Coaches Clinic, and co-facilitated a session called Two Midwesterners Politely Invite You To Explore Coding with Faye Thompson.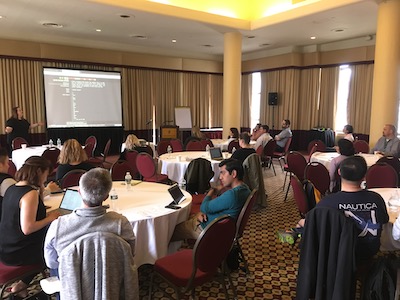 Here's the abstract:
Wonder what it's like to do what programmers do? Maybe people have tried to explain it, but didn't put it in terms that computed for you. Perhaps you've considered participating in your team's mobbing sessions but weren't confident that you could contribute. Or maybe you would like to become more technical, but the mere thought of trying to code has felt intimidating. Today is a new day!

Faye's a non-programmer from Ohio, Amitai's a sometimes-programmer from Illinois, and with your help, we'll solve a problem by thinking and coding together. If you want to, you can take a brief turn at the keyboard; if not, no biggie. When we're done, we think you'll have a new kind of feeling about code and coding. You might even want to pursue it further.
We got the audience we were hoping for: mostly folks who haven't touched code much before, if at all. Feedback suggests it might make a difference for at least a few of them. For my part, co-presenting with Faye was easy and enjoyable, and her involvement made the session much more effective.
Gitte Klitgaard's keynote set a powerful tone for my third consecutive Big Apple Scrum Day. It's always a privilege to present — and to provide free 1-on-1 sessions as part of Gene Gendel's Coaching Clinic. As an independent consultant, I especially appreciate the chance to offer something of value to an audience that's local to me.