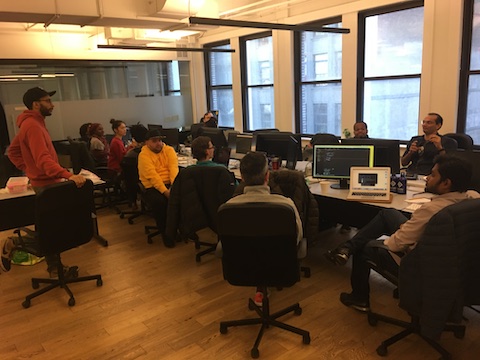 On Saturday, November 16, I was going to have once again co-facilitated the New York City instance of Global Day of Coderetreat. I wound up not doing much of that, because Emmanuel Genard from Stride Consulting had it well in hand and because the situation at home required all available parents. (Taavi, having progressed from crib to anarchy while I'd been off at a client, has since progressed to getting the hang of a new bedtime routine. Phew.) My chief contributions in a mere 90 minutes at the App Academy office in Midtown:
Talked to GDCR participants in Nuremberg, where I'd made some friends on my Coding Tour last summer
Talked to Edinburgh (same)
Failed to talk to Montreal due to technical difficulties
Distracted Manny and at least some of the participants
Took a picture of them
I know, I'm impressed too.
But seriously, thank you to my friends at Stride for organizing, sponsoring, and facilitating, and to App Academy for sharing their space with us.
If you're energized by coming home from Global Day of Coderetreat with several new points of view on a seemingly small problem, you might be the kind of person who'd enjoy a Coding Tour. I'd be more than happy to chat about what it's like to go on tour and how you can make it happen for yourself.
More
Could this format for learning help your team? Code Retreat (or Legacy Code Retreat) is one of the ways your organization can benefit from my rare combination of technical coaching and impactful conversations. (Take other people's word for it, not mine.) It's not too late to book me for 2020. Let's talk about what fits for you.
If that's not your decision to make, could you personally benefit from an individualized session with an experienced, inquisitive, and empathetic conversation partner? Maybe you're facing a challenging situation at work, a learning opportunity in some code — or both. Get in touch: latentagility.com