Blur-o-Vision: Whole audience up and talking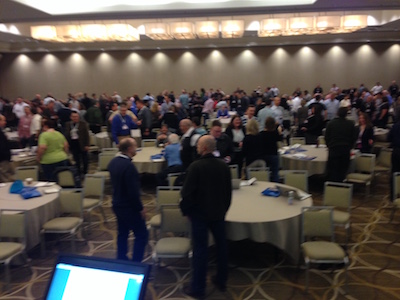 At the fourth AgileIndy conference, I led off the proceedings with Agile in 3 Minutes. To prepare ourselves to participate in the day's learning, we (quickly) introduced ourselves to two people, then (briefly) discussed what the first two episodes made us think about and (briskly) shared a few highlights with the whole audience. My hope in making Agile in 3 Minutes is to help you have more valuable conversations. In case today's rapid-fire format helps you do that, here are the slides.
In a breakout session, I also told some stories (slides) of "Shoestring Agility in a Velcro Organization". You can find them in written form on this site as the TDD in Context series.
Highlights from AgileIndy
Meeting someone who shared that "Before Agile in 3 Minutes, I couldn't get my team to have a conversation. Now I have to timebox it."
Seeing this effect firsthand, as 450 people had conversations prompted by Agile in 3 Minutes.
Being told that in the hallway outside my breakout session, someone told someone else, "Hey, that's the Agile in 3 Minutes guy!" The doors were closed. They must have recognized my voice.
Kicking things off with Agile in 3 Minutes