Photo by Jason Dinkelmann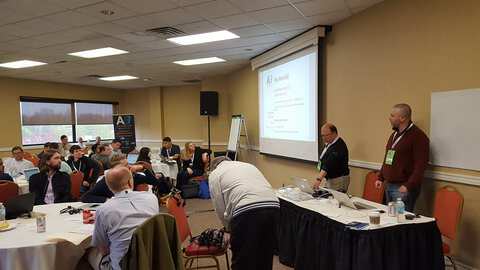 At Agile and Beyond in Ann Arbor, Jeff Hoover and I facilitated a workshop on effective collaborative software development for distributed teams (including remote pairing and mobbing).
I also appeared on a Blame, Shame, and Punishment panel with April Jefferson and Tim Ottinger, moderated by John Le Drew.
The night before the conference, some of us got together for drinks, and nearly everyone who walked in the door was someone for me to hug. It was wonderful to make a return visit to be among so many friends in southeast Michigan, to design and run another workshop with Jeff, and to feel satisfied about not going to any more conferences for a while. My heart is full. And my mind is full of heartily solicited advice for how to manage when my heart will soon be overflowing.
Oh yeah, the workshop:
Here's the abstract:
The Best Team Anywhere: Distributed Agile Tradeoffs and Techniques
Colocated Agile is the easiest way to do a hard thing. Distributed Agile is harder. But it's 2017! It's strategically valuable to be able to work effectively with people no matter where they are. Bring your laptops and prepare to experience the basic mechanics, pitfalls, and techniques of distributed teamwork, including "remote" pairing.
Photo by Kristen Belcher