Photo by Faye Thompson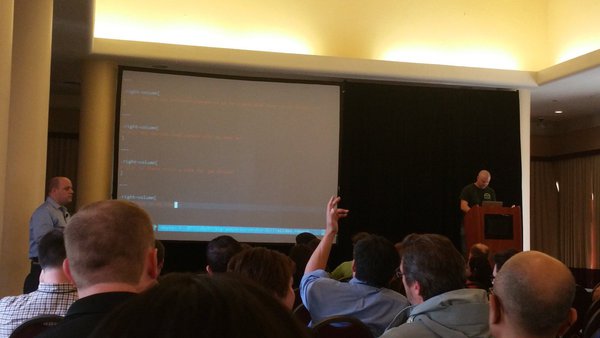 Ryan Ripley and I gave a talk at Big Apple Scrum Day in New York City. We already do plenty of talking at people, and wanted to try a new format: collect questions from the audience, turn each into a slide, work our way through the slides. Sort of a mash-up of Lean Coffee and PowerPoint Karaoke. (We got the idea from Chris Murman at Agile Coach Camp. He was passing it along from having seen William 'Whurley' Hurley's Keep Austin Agile 2016 keynote.)
Here's the abstract:
The Care and Feeding of T-Shaped People
Do we value "T-shaped" people who combine breadth with one area of depth? Then we value "paint-drip" people who grow and change. Come hear stories of professional growth through the lens of Kent Beck's powerful metaphor, learn ways to encourage others to broaden and deepen, and practice on yourself.
Maybe you're a project manager who knows your tracking tool inside and out, but doesn't totally understand what developers' work is like. Maybe you're a developer who glides gracefully through your IDE, but doesn't grok how the PM stays busy all day. Probably neither of these reductive examples captures your unique self. Good! So how did you come to be in your current role, knowing what you know so far? What might you like to learn next?
Ryan and Amitai's experience as developers, managers, and now coaches seems to agree with Kent Beck's "Paint Drip Person" metaphor, which suggests that continued professional satisfaction and growth comes not only from seeking deeper understanding within our original specializations, but also by deliberately broadening our skills and following our curiosity (or heeding its absence).
We'll draw on our experiences to kick-start your thinking about which brush you're using, which color, and where your paint is picking up speed. You'll leave with energy and clarity for the next step in your personal Agile journey.
Photo by Jason Tice