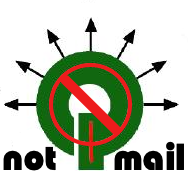 notqmail
notqmail is the community-driven open-source successor to qmail.
When you install notqmail, you get a system carefully evolved from qmail and netqmail. Your patches should mostly continue to apply, for as long as you continue to need them. In the long term, we intend to make patching mostly unnecessary by shipping with commonly needed functionality. notqmail will eventually meet all common needs with OS-provided packages.
My notqmail packaging

In the meantime, if you're interested in my patches, the easiest way to get them is qmail-run and friends from pkgsrc, a cross-platform Unix package management system.
Here's what users have to say:
"Remarkable work in patching, modernizing and cleaning up qmail, with particular regard for acceptutils/rejectutils. Setting up a working server with the qmail-run meta-package didn't require more than few minutes, it's well documented, and, at least in my opinion, very straightforward."
— Paolo Vincenzo Olivo, on netbsd-users

"If you're replacing a server running qmail and want something very close to John Simpson's combined patch but with modern features, I'd check out Amitai Schleier's qmail patches."
— J. Lewis Muir, on the qmail list

"An awesome MTA finally has the awesome getting-started experience that it deserves, via pkgsrc. Thoughtful, flexible, and powerful, just like qmail itself."
— Nathan Arthur, by private email

"Damn, you made it easy to get this stuff up and running."
— Another pkgsrc user, by private email