Our third child arrived yesterday, on April 26, at 7 pounds. She was determined to make her debut in the car but instead came out moments after her mom got on the hospital bed. Meet Galila Yara Schleier: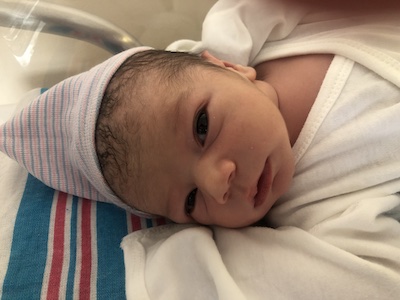 She comes home tomorrow to meet her brothers. Grandparents, aunts, uncles, cousins, et al. will get to hold and smell her soon.
About the name:
Galila Yara honors Rebekka's beloved aunt Judy and Amitai's sweet uncle Rami.
Galila
From Hebrew Galil, the most mountainous region of Israel, the country where Uriel and Rami grew up.
It signifies Judy's endless love of the mountains and embodies the meaning of Rami's name: "high"
Taken on its own, the Gal portion of the name means "wave", representing the love of the ocean that Judy and Rachel shared and experienced together
The initial G honors Dianne's mother, Grace
Yara
From Hebrew and Arabic words for "small butterfly", "forest", or "honeycomb", depending on how you read it.
It reflects the beauty and sweetness of nature, which Judy always celebrated and appreciated
The Y honors Yehudit (Judith) and the Ra honors Rami
Like Amitai's own middle name, it represents Yaakov and Rivka, Uriel's and Rami's parents
Galila Yara
We chose the name "Galila Yara" to encompass our families' rich memories and backgrounds and to celebrate Judy and Rami and their loving families. We invite you to join us in welcoming Galila into ours.
About the date
4/26 is the day before Finias's birthday (he's 2 today!)
More nice properties observed after the fact
If you think of another reason this is a nice name, please pass it along.
More photos